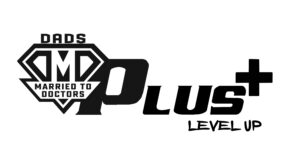 Your Community to Level Up as a
Father, Husband, and Man.
Inside DMD+, dads like you come together to meet and support one another, get answers to burning questions, learn from experts, participate in growth challenges, and more.
Being a Dad Married to a Doctor is Hard, Don't Go It Alone
Not many people understand aspects of the DMD Lifestyle. Loneliness. Doubt. Knowledge gaps. No direct access to experts. Relentless distractions. Confusion about advice. Fear of rejection.
Many DMDs battle these struggles every day. These struggles can lead to unfocused action, wasted resources, poor decision making, and feelings of overwhelm. Faced with these struggles, it's no wonder why so many dads burn out far short of achieving our dreams for ourselves, our kids, our families, our business, and more.
This difficult terrain is all part of the DMD Lifestyle. It'll never be easy. Success will never be guaranteed. But the probability of success—building an amazing life on your own terms—can be dramatically improved by joining forces with others who share your value system and a common goal.
Introducing DMD+ (DMD Plus)
At DMD, we're proud to serve a worldwide community of over 4,000 dads married to doctors in 25+ countries. This community is huge and diverse—we rally around our connections, relationships and mixed array of topics within the Facebook group.
We've never had a private community, focused on growth with organized content…until now!
DMD+ is our private community for growth-minded men motivated by purpose, committed to self-discovery, willing to do the work, and eager to create their own luck and success.
All our journeys are unique but they all benefit from common experiences:
Fatherhood
Marriage
Masculinity / Manhood (Personal and Professional Development)
Deriving value from those experiences is only possible when the culture providing those experiences is rooted in a most sacred quality: safety.
Come Join Us, It's Safe Here!
The goal is PROGRESSION, not ridicule. Progress, not PERFECTION!

– DMD+ Coach, Scott McCarthy
The need for safe places that can be trusted to provide acceptance, development, privacy, and compassion has never been more important. That ethos is the beating heart of DMD+.
From that heartbeat flow our community tenets and benefits:
A safe place to ask questions, experiment with ideas, practice conversations (role play), commit to challenges, and generally learn and grow without fear of judgment or rejection.
Relationship-building opportunities with like-minded guys that can yield solutions to problems, hold you accountable, and establish friendships.
First access to new content and other offerings from DMD.
A community that welcomes members from diverse backgrounds including race, ethnicity, orientation, neurodiversity, and physical ableness.
A focused environment to accelerate learning and networking due to the absence of fluff content and noisy discussion channels.
A privacy-first attitude toward all current and future aspects of the community.
We're thrilled to establish such a nurturing ecosystem in a singular community void of hate, hype, distractions, tire-kickers, and non-starters. This is where serious DMDs jumpstart their goals, and it's where they return time and again to stay sharp, make new discoveries, expand their networks, and elevate their potential.
Inside DMD+
Out-of-the-box community paradigms may work for some, but not us. We enjoy pushing the boundaries, being ourselves, and responding to the needs of our audience. That mentality led us to imagine a unique community experience for our members.
Specifically, DMD+ was built upon three core offerings:
1. Private Community—which comes to life through the following capabilities:
Learning channels for discussions around skill development topics in our three pillars of Fatherhood, Marriage and Masculinity
Discovery channels for member networking, collaborations, and more
Monthly challenges that encourage, support, and reward member growth
Featured opportunities where members can get exposure for their new business offerings
Contest Giveaways and Exclusive Discounts featuring offerings of vetted advertising partners
Private channels for focused discussions among member cohorts
Private 1:1 messaging between community members
Exclusive Content—which comes to life through the following resources:
2. Workshops / Courses
You'll have access to our growing list of live and pre-recorded courses. DMD+ members are also invited to attend the live recordings of future workshops.
3. Weekly Discussion Calls / Monthly Guest Speakers
Each month, a different expert or guest speaker will host an exclusive Question and Answer Session in their area of expertise.
Direct Access and Support—which comes to life through the following experiences:
Regular Ask Me Anything (AMA) events hosted by DMD+ coaches and DMD members
New member community hangouts organized on a routine basis
Business/Professional networking community hangouts to encourage DMDs working together and supporting each other.
Self-help knowledge base of solution support articles
This architecture has been deeply informed by folks we know and trust. And it will continue to evolve as we learn more about the diverse characteristics, interests, and needs of our members. Because really, in terms of future vision, we're just getting started!
Founding Members Wanted
BE ONE OF THE DMD+ FOUNDING 100
Growth-minded. Driven by purpose. Committed to self-awareness. Willing to work hard. Eager to create your own luck. If that sounds like you, and if you've been looking for a private community of like-minded men to join forces with, then we'd love to welcome you into DMD+.
DMD+ is in beta mode. That's special—for us and for you. It's a moment of exploration. It's a moment of innovation. It's a moment to establish deep roots. If you feel extra motivation to be a part of something special from the very beginning, now is the opportune moment to become a founding member of our private community.
But first, let's see if DMD+ is a good match for you:
It's a match if you…
want a systematic approach through community and coursework to strategically become a better father, husband, man, and leader.
are emotionally ready to participate in the giving and receiving of feedback that may at times challenge your original thinking
are looking to grow your business connections and network
seek accountability partners in the pillars of the DMD lifestyle who will help you keep your promises to yourself and your dreams and goals
believe in the virtues of humility, empathy, optimism, tenacity, and abundance
value diversity in all its forms and are accepting of others regardless of their appearance, ideas, and backgrounds
accept the responsibility to work hard and diligently because you know that success is not guaranteed or easily achieved
have accomplished levels of success in your life and now seek a platform to mentor and encourage others
It's not a match if you…
feel like you know it all or are not looking to grow in new areas
prefer to surround yourself with people who look, think, and act very similar to you in both business and in life
do not like to be challenged or held accountable
expect success to come easily, quickly, and largely on the backs of others assuming your responsibilities
are not yet ready to share your ideas, questions, challenges, and needs with others for their constructive feedback
Feel like it's a match?
Outstanding! Here's what you need to do to join:
Join the Waiting List—Complete the form below to access our application. It's short. We review applications in the order in which they were received.
Be patient—We are only issuing 100 Founding member invites. Invites will be issued on a rolling basis. Please be patient with us as we process them.
Accept your invite—If we choose your application, then you'll receive an invite to join DMD+ via email. It will contain a special link to sign up for the community.
Founding Member Launch Price:
Lowest price it will ever be!
$25 / month or $250 / year (2 months FREE)
The cost of a few cups of coffee can CHANGE your DMD LIFESTYLE!
DMD+ supports DMD Gives Back
DMD Gives Back is the charitable and philanthropic arm of DMD. In our first 5 years, we have raised and donated $10,000 to charities and causes our membership believes in.
This year, we are looking to expand DMD Gives Back to support charities and also offer financial assistance to our own members in need.
To help towards raising $10,000 this year alone, 10% of proceeds go directly to DMD GIVES BACK.
As membership increases in DMD+, so will the percentage back!