The Dads Married to Doctors Association is proud to celebrate National Physicians Week, March 25-31, 2019.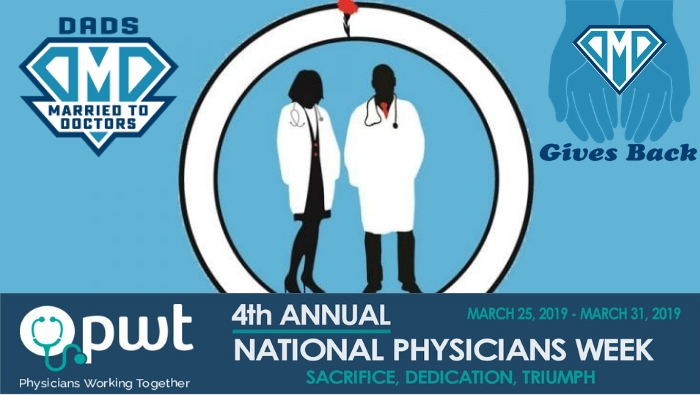 Every day, dedicated doctors provide quality care in every part of the country twenty-four hours a day. Whether it's in an emergency room in Idaho or delivering a newborn in the suburbs of Philadelphia, a physician listens to symptoms, watches for signs, analyzes and consults to make, with the patient, the best decisions their years of training and dedication can provide.
According to the website, Physician's Working Together, future doctors sign on for a whole lot of debt and a heavy workload wrought with stress and sometimes thankless patients.
Individuals attend between 11 and 14 years of higher education to become and work as a physician.
Nearly ¼ of physicians work between 61-80 hours a week
A physician's average medical debt can take over 30 years to repay
According to Medscape, there are over 400 physician suicides yearly
(source)
Physician advocacy is a global issue. National Physician's week debuted in 2016 and the Registrar at National Day Calendar recognized it later that year. This recognition week is spearheaded by the group, Physician's Working Together. The expansion from a National Day to a week is representative of the fact that physicians' are on the clock twenty-four hours a day. One day is not enough to show appreciation for these individual 's dedication and sacrifice.
How Did National Physician Week Start?
Dr. Kim Jackson, MD was inspired to action after the suicide of her fellow physician and friend. She created Physician's Working Together to bring understanding and celebration to the efforts of physicians.
A designated week seeks "to bridge the gap between public perception and physician reality by highlighting the sacrifices, dedication, and triumphs of our peers and fellow physicians by celebrating the lives of those who we have lost along the way."

– Dr. Jackson
How to Observe Physician's Week
Red carnations are the flowers for Doctor's Day. It is a tradition to place a red carnation on a deceased physician's grave.
Order a small gift or token for your physician to show your appreciation. Check out the DMD Store here for options.
Send a personal thank-you note to your physician.
Drop by your personal doctor's office with lunch or a snack.
Get a check-up if you haven't had one in a while. That will make your doctor happy! After all, they are in the business of keeping you well!
Encourage others to spread the word through social media by using #NationalPhysiciansWeek #ThanksDoc #PWTPhysiciansOnFire #BestTogether #PWT
Stay updated on all things PWT by visiting best2gether.org and physiciansworkingtogether.org.
Don't forget to tag DMD using #dmdlifestyle so we can celebrate with you!
Where did Doctor's Day come from?
I'm excited to share that this day to appreciate physicians was started by fellow AMA Alliance members. The first Doctor's Day observance was held on March 30, 1933, in Winder, Georgia.  Eudora Brown Almond, the wife of Dr. Charles B. Almond, wanted to set aside a day to honor physicians. This first observance included the mailing of greeting cards and placing of flowers on graves of deceased doctors. The red carnation is commonly used as the symbolic flower for National Doctor's Day.
On March 30, 1958, a Resolution Commemorating Doctors' Day was adopted by the United States House of Representatives. In 1990, legislation was introduced in the House and Senate to establish a national Doctor's Day. Following overwhelming approval by the United States Senate and the House of Representatives, on October 30, 1990, President George Bush signed S.J. RES. #366 (which became Public Law 101-473) designating March 30th as "National Doctor's Day."
PHYSICIAN BURNOUT RESOURCES
The AMA Alliance has been supporting the physician family for almost 100 years. A great way to celebrate physicians is to look for the signs mentioned in the resources below to see if they are overworked and stressed.
NEXT STEPS. Ways to prevent burn out:
The Dads Married to Doctors Association is proud to celebrate National Doctor's Day, March 30, 2019
This year, DMD is honored to give back to one of our own. Dr. Olen Netteburg posted in our private Facebook group about a need for his community hospital in Chad, Africa. The group responded immediately and we are thrilled to be able to serve Olen and his family for our DMD Gives Back efforts on Doctor's Day 2019.
Read more about the need here and follow the story as it unfolds!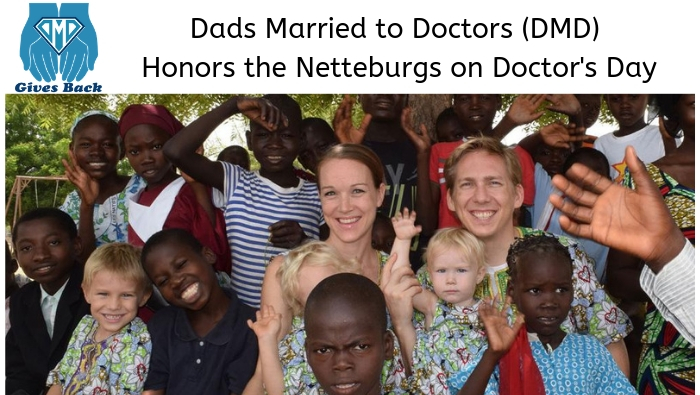 ---
How are you celebrating the special physician in your life? Share a story about an impactful doctor you've seen or you've worked with. Chat with us on twitter @dmdlifestyle.